There are 2 ways to easily create a new digital menu using Menubly.com
Sign up

to create a new digital menu right away. This article is a step-by-step guide on how to do it, or you can watch below tutorial video. 

Upload your paper menu or PDF menu and we'll help convert it within 24 hours, for free. Contact us via live chat or whatsapp us if you need this.
Create a new menu #
Go to Sign up page
Enter your Name, Email Address and Password
Enter your Business Name and check if the Menu URL looks good. This URL will be the public URL for your menu, which you can share everywhere (for example: https://app.menubly.com/p/hebe)
Sample categories and items will be added to your menu automatically.

Don't worry, y

ou can change these later. 
Add new categories to the menu #
Click on "Add Category" button to add new categories. You can add as many categories as you wish.
Click on each category to change the name of the category
To delete a category, simply click the three-dots icon on the right and then click "Delete"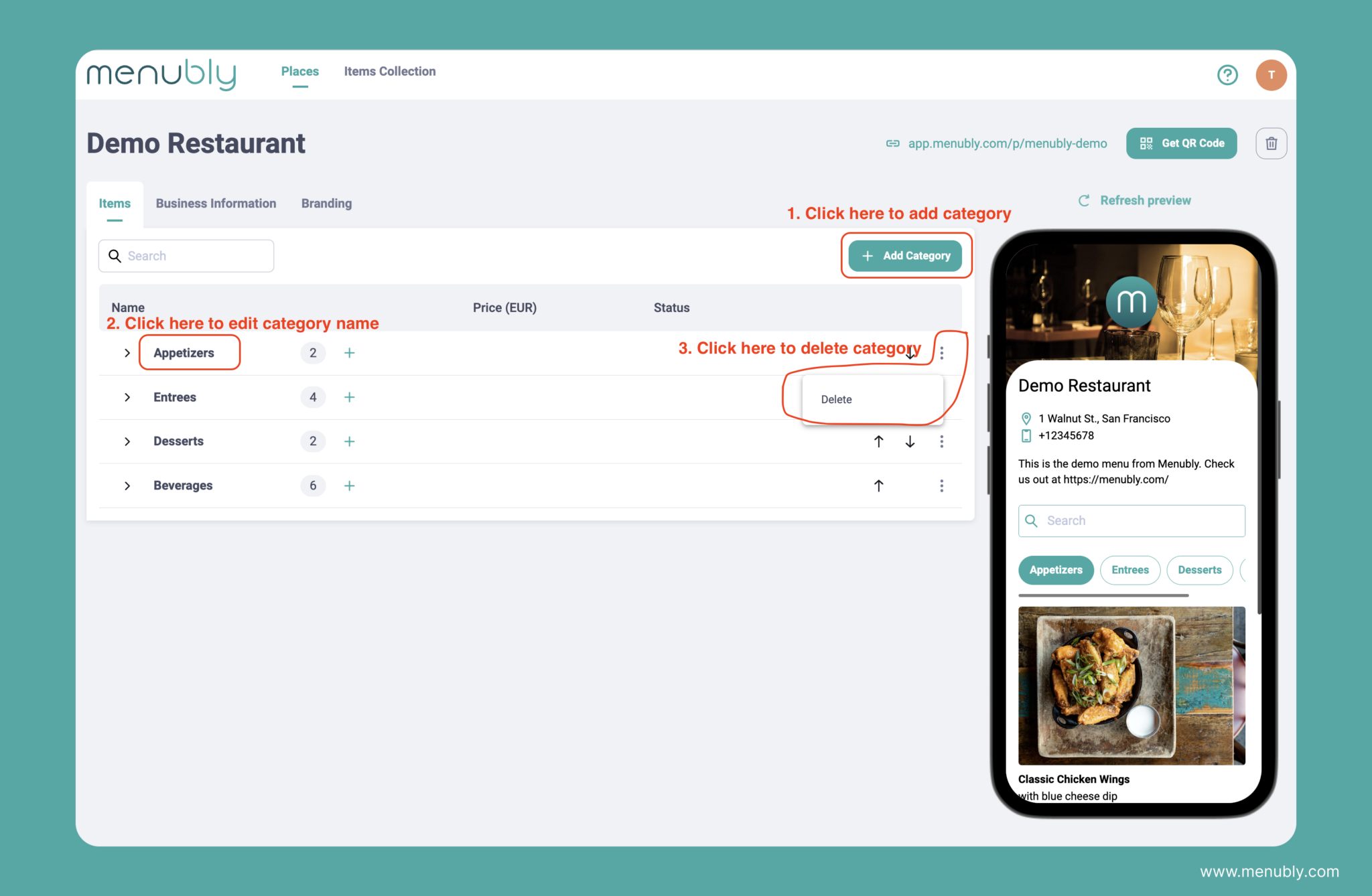 Add new items to each category #
To add items to a category, click the "Plus" icon next to the category name. You can add as many items as you wish.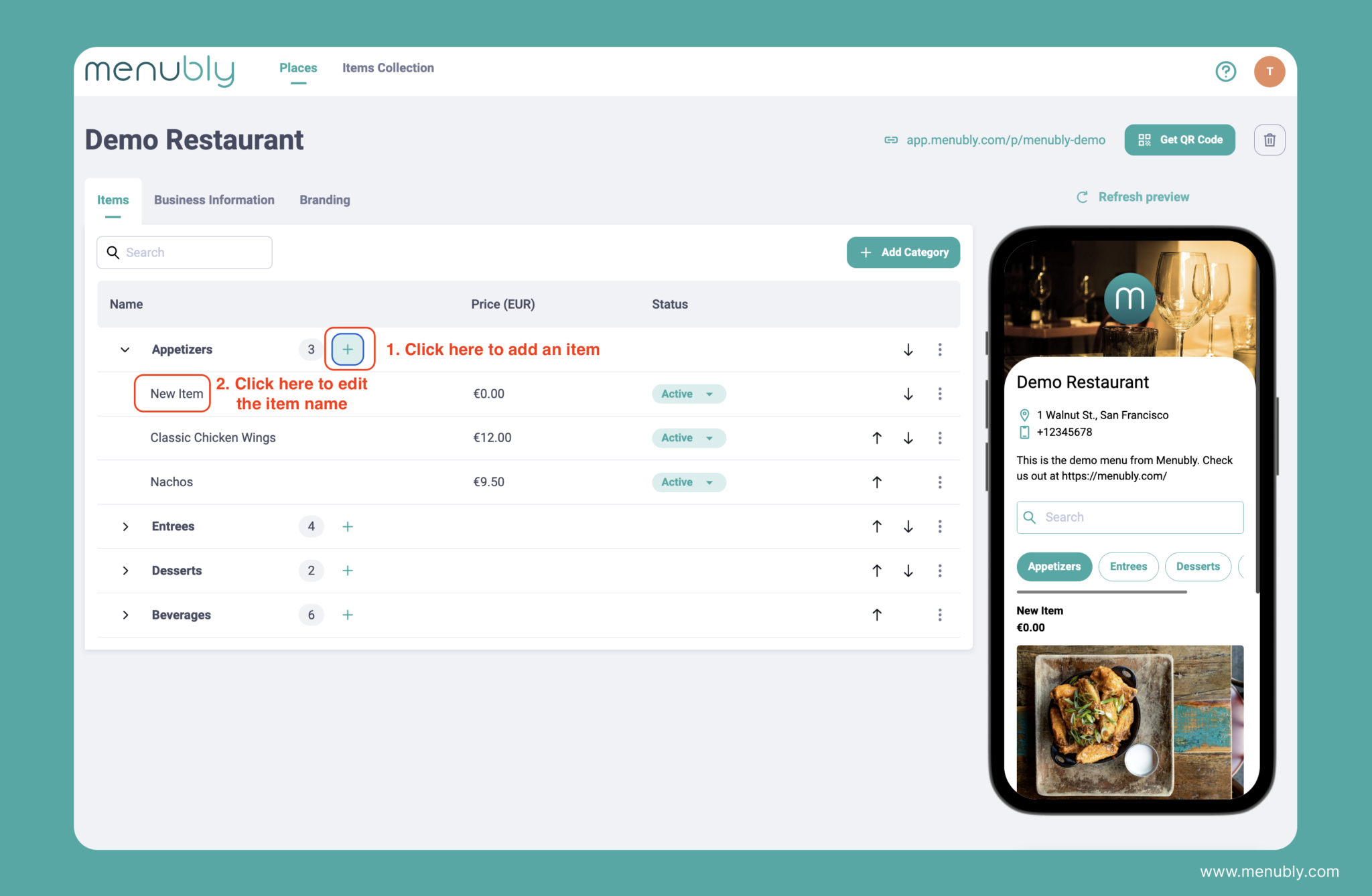 Edit an item information #
Edit item name:
To change the name of each item, click directly on the item name and start typing.
Edit other information:
Click on each item to open the item details screen. On this screen, you can edit: 
Item name
Item price: if you wish to change the currency for the price, you can change it on Business Information tab
Item description: additional information about the item
Status:

Active: The item will appear on the menu page for your customers to order from.
Sold out: Item will be marked as "Sold out" on menu page
Hidden: Item will be hidden from the menu page. This is useful for seasonal items that aren't always available but you want to keep it on the list in case you want to enable it back later.
Image: Add a large image for your item
After you finish editing, click "Save and Close"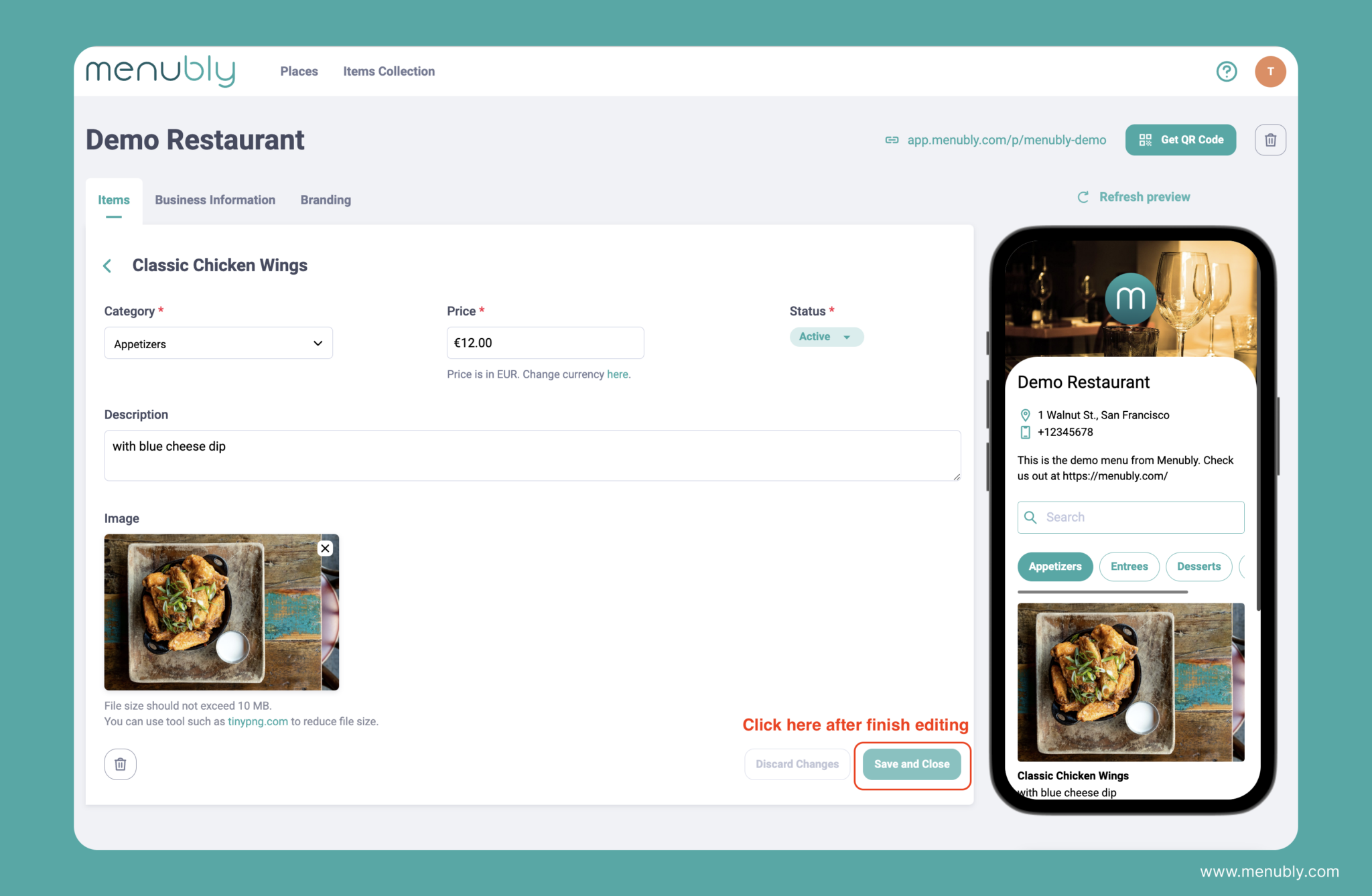 How to edit business information #
Go to the Business Information tab. In here, you can edit:
Place name: your restaurant's name
Currency: 
Address: your restaurant's address. This will appear underneath your Place name
Phone number: your restaurant's phone number
Header Note: a few informative sentences about your restaurant that will be displayed above the menu. (for example: we offer free delivery)
Foot note: This note will be displayed at the very bottom of the page, this is good for notes that require less attention from your customers (for example: if the price on your menu is VAT inclusive or not)
Click "Save" after you finish editing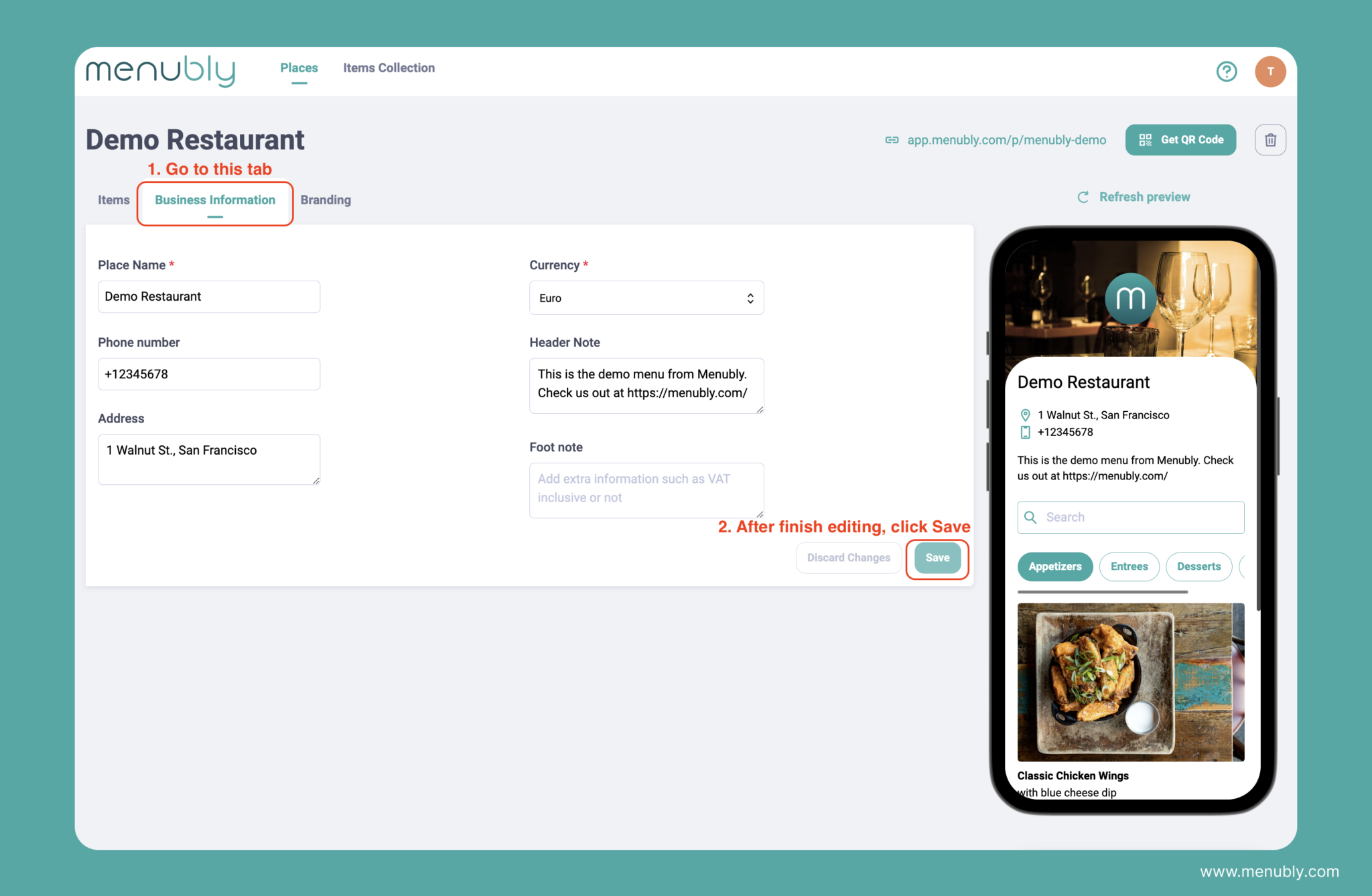 How to edit the look & feel of the menu to match your brand #
Go to the Branding tab. In here, you can edit the look & feel of the menu including: 
Logo image: your restaurant's logo or an image
Background image: a large image that will appear on top of your menu, like a cover photo.
Theme color
Background color
Text color
Click "Save" after you finish editing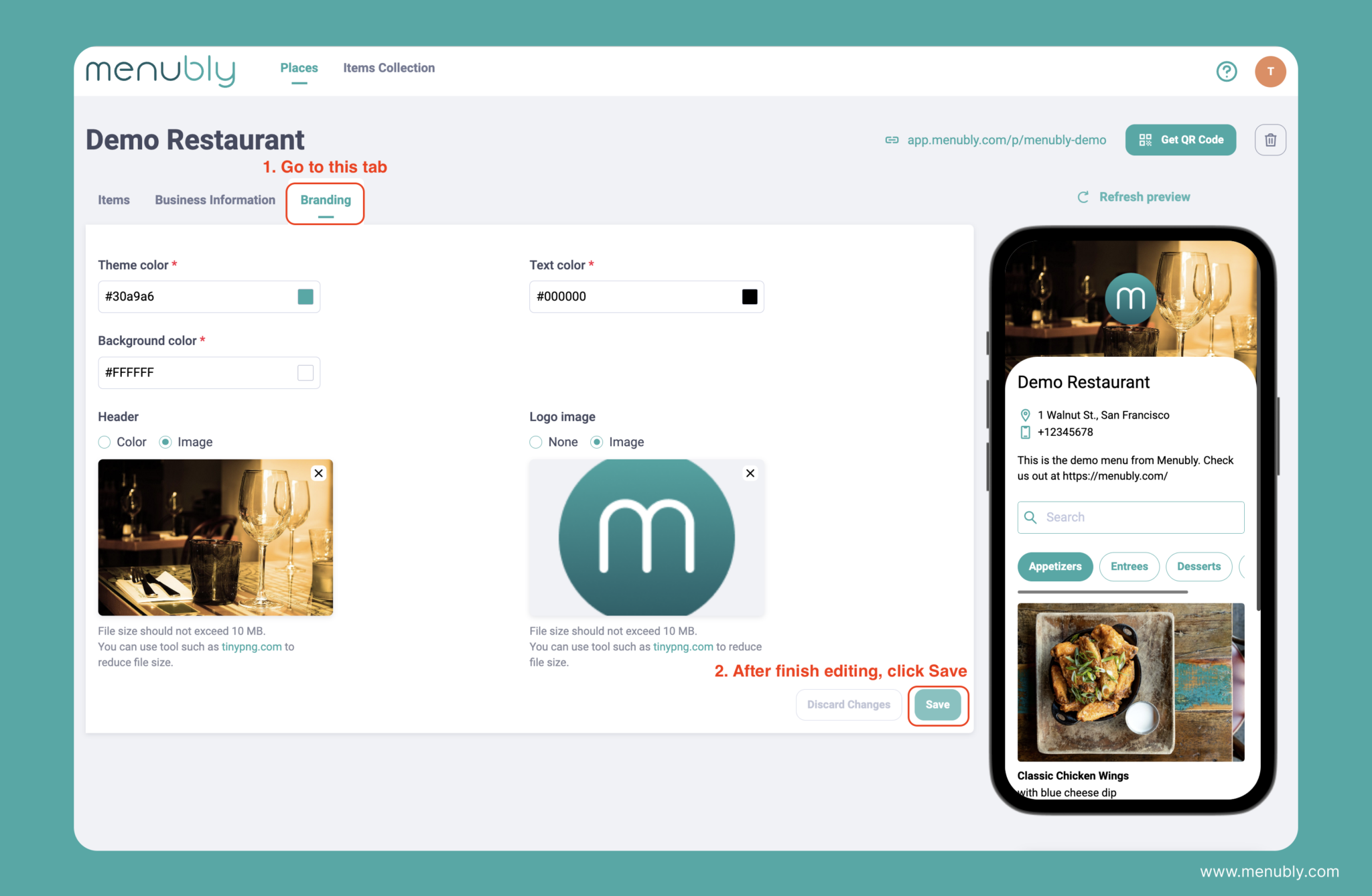 Share your Menu URL or use the QR Code #
Share public menu URL:
On the top right corner, you will see a public URL for your menu. 
Click on that link to see how your menu appears to your customers.
Your menu is public and accessible at this URL: www.app.menubly.com/your-restaurant-name
You can share your public Menu URL on social media or with your customers directly.
Use the QR Code:
You will also see the "Get QR Code" button next to the URL, click on it to download the QR Code, then print it and place it in your restaurant so your customers can scan it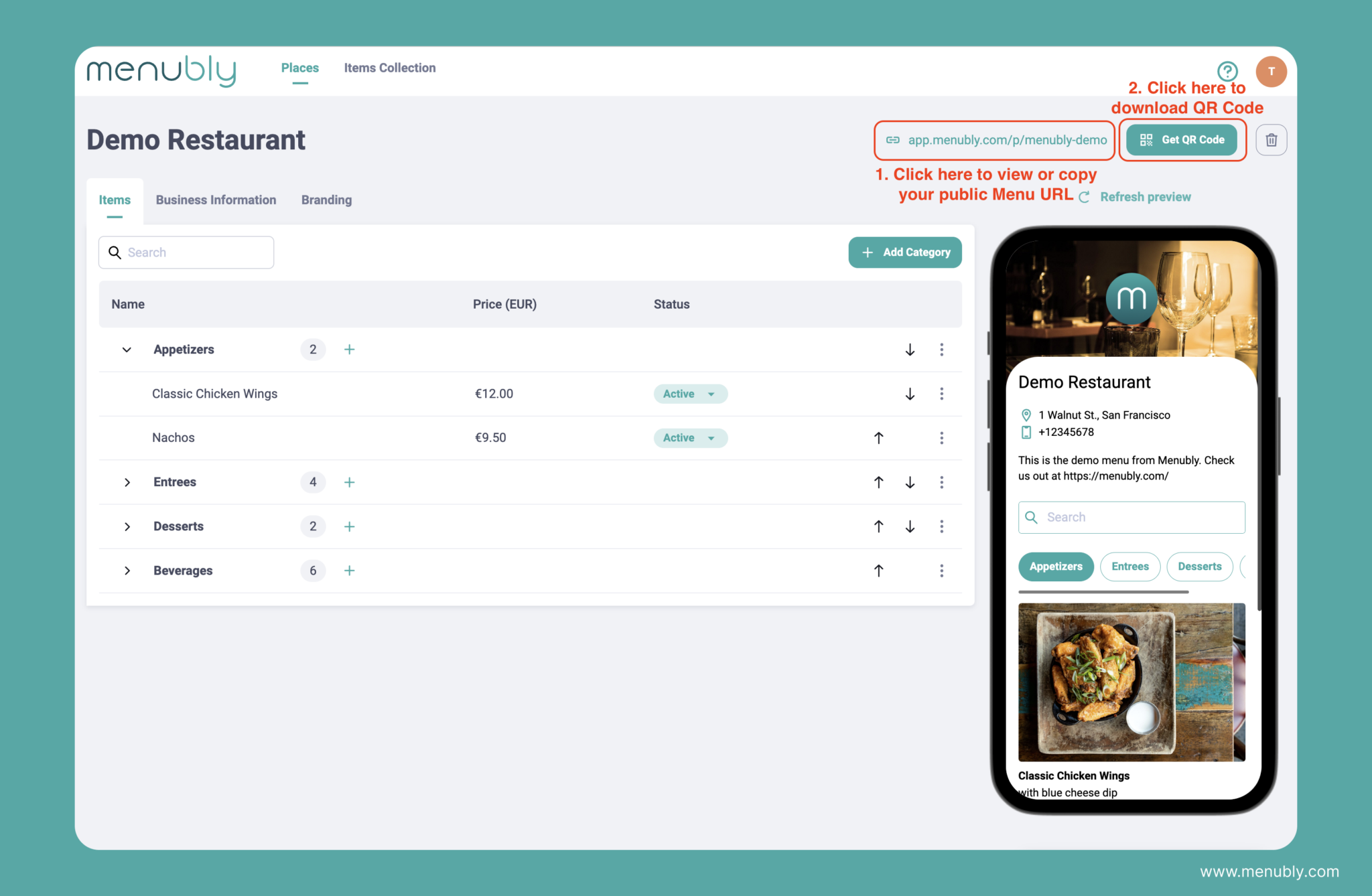 Still stuck? We can help. Contact us via live chat or whatsapp us if you need assistance.